30th anniversary cuff
O.G.
Aug 31, 2008
8,319
11,398
Ladies, thank you for information.
I need to go to the boutique.
I bought the leopard jacket size 36; the tie dye jacket; and the sweat pants, size 34. Each about 2300 or 2500 USD. I'm normally a 40 or sometimes a 42 bc of my waist. I thought about the short beige Macintosh (maybe 4600 ?) bc I really liked the fit, but it didn't breath at all, so decided against it. There was an attractive knife pleat ombré denim skirt and this patterned tie die (I took a size 42) but it's a lot of relatively heavy material for someone my height (I think 2000) And the fringe long vest (6300?)looked like a blanket. Tried on a short waisted black and white plaid dress that was Not for my body type - school girl style made me look wider than tall.
for winter I saw a pic of a hooded bar type jacket (less nipped at the waist than the traditional bar jacket) that I asked for and a black leather jacket. I tried on a tan shearling that made me look like an Overstuffed Ugg boot.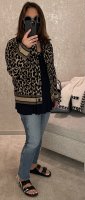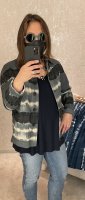 @style_in_snapshots
, the dress is really good on you! Wish I had your hourglass figure! I think you'd also look great in the black and white one posted by
@periogirl28
below. (Sadly that's the one that made me look boxy)
thank you
@Tasha1
and
@jp824
!
@Tasha1
, agree either the skirts are maxi or the dresses are mini, and everything needs alterations. I also wish that the denim jackets were more finished, less western, (I'm thinking of the way dolce and gabbana and valentino did denim years ago), and that there was some more camo this season, kind of like how Prada used to do or even Valentino a bit more recently. I only saw a few pieces of Dior 'camo' in blue Sweat shirt material that was oddly priced. For me, the leopard sweater, the neon color, the fit and style was too reminiscent of prints from the Limited express in the 1980s or 1990s so was a no go.

Last edited: