Hello ladies, I'm in desperate need of advice as I do not want to approach my fiancé about this until I have made a decision for myself. My fiancé proposed to me with a beautiful 2ct excellent round diamond stone set on a plain 14ct gold band, in the hopes that we would go together and choose the right setting for me.
I am normally a very simple girl and don't like too much attention on myself. However, I am also extremely indecisive and always second guess my decisions... This is what is happening right now.
When we went to the jeweler to look at settings, I expressed to her that I want something simple and not too much bling. I work with children majority of the time, and see families of various demographics so I don't want to come off obnoxious. The jeweler suggested that I go with very small diamonds around the band set in platinum, as this would be a secure bet being that I work with children. I listened to the jeweler's advice and went for it. However, I was not very ecstatic with the ring when she gave me the final product.
I am thinking that I would like to change the setting to larger diamonds around the band, but don't know if it is possible at this point. I would also like to add diamonds on the inside of the ring (the part that actually holds the center stone). The other option that I am considering is to go back to the original, plain band, with which he proposed. Please excuse my amateur explanation of things as I do not know the proper terminology when it comes to jewelry and engagement rings. Please tell me your opinions/suggestions, and whether it is too late to make such changes.
The original setting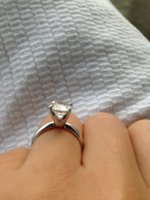 New settings
Diamond band that I like more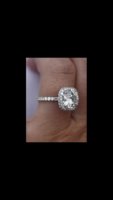 (not the halo, only the band around the center stone)
Thank you for taking the time to read my post!!!