No problem. Let us know what you do about the Dior.

I can only speak for the one I've held recently and the leather on my Coccinelle is so soft! I'd definitely recommend it; the brand is known for their quality.

But, Lancaster has several quilted bags for €90-110 in the sale right now, so that's very tempting.

I searched and there is a thread on the brand here...

I tried to search for some information on this brand but nothing has really come up on these forums. I think the brand has been around for a while but was never really popular. I think they are trying to do a huge marketing push now with a bunch of new bags. Their bags appear to be well made and...

forum.purseblog.com

Edit: I just remembered my favourite quilted bag wasn't in the family photo!

You know you have too many bags when you can forget one of your favourites so easily!

Attached is the Coach ombre Callie.

@whateve

, the one I'm asking you to name is the one on the right. TIA

View attachment 4803914
Your Coach ombre Callie is gorgeous! How do you wear it? Casually or dressed up?
The Dior New Lock is still lingering in the back of my head. I´m very tempted, but I don´t understand why the seller hasn´t sent me any photos, yet. Some people are just so slow or don´t understand that somebody wants to see everything before spending money. I might write to her, again, tomorrow. On the other hand... it´s expensive... but kind of a classic bag... very much what I´vebeen looking for... cannage quilted... silver hardware... chunky silver chain... but only a shoulder chain... a bit big for crossbody anyway... you see my peace is endangered!
Here´s an old campaign photo from when the style was launched in Dec 2009.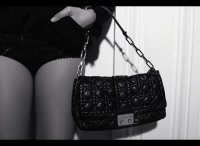 Last edited: