So I'm in need of a new carefree crossbody and I've been trying to decide what to get for weeks. As soon as I made up my mind, I found something else I like. I've narrowed it down to a few bags but I can only get one for now and hopefully another in the spring and a third this summer for my bday.
I'm a stay at home mom and I usually travel light so I just need a small bag for my cles, mini pochette, my phone, and a few things for my toddler.
Initially I was dead set on the speedy B25 in DE, then I wanted the pochette metis in regular mono. I don't wanna deal with vachetta though and red is my favorite color, so I'm leaning towards the infrarouge. My only concern is the quality issues ppl have had. Lastly, along came the denim epi speedy B and it's gorgeous. But I wonder how it will age. The empriente metis is still on my list but I'm going to wait and see how those hold up before I take that plunge.
I've tried them on and still can't decide. My SA just sent me pics of the infrarouge. I haven't been to see it in person yet.
So, which 2 of these would you get and which would you get first?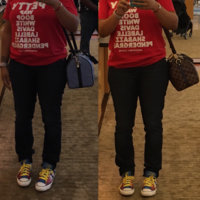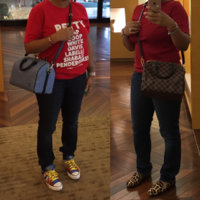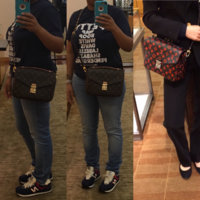 Thanks!!