Today was the day that I finally bit the bullet and rehomed my into the canadian wild. This one was a long time coming. it's one of those designs that suck me in over the immensely cute critters and the lovely details but there's just too much going on colorwise and also too many things I need to strategically hide (butterflies... eek). and then the CW probably wasn't the one I would have chosen for myself but I happened to find it in an airport boutique and jumped on the opportunity. I'm glad that I had it, I've worn it 19 times and I managed to sell it for what I bought it for, making my final cost per wear 0
The reason I'm selling it now is that with my new tapis de selle, my coral/pink/green gap has been taken up and my collection looks suddenly way more cohesive now.
Here's the gang as it is right now: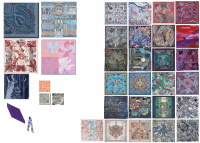 and here's the ones who found a new home.
Note to self. DONT BUY ORANGE SCARVES


I don't know how many more times I need to learn that lesson... the lettres gav is ok though, it reads more apricot due to the color mix, which is fine.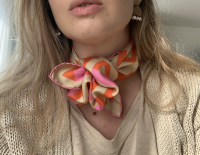 Also easy on the CSGMs, I don't reach for them enough to warrant the $$$