The question that I've often wondered, and am pondering lately, is: How do you know what scarf really suits you? Considering colors, patterns, type of designs, even formats, etc.
I've been enjoying my collex of H scarves for many years and it's been an enlightening journey (especially for my wallet).

I've valued the words of wisdom shared here in many threads and have curated a silk stash that I'm pretty pleased with (though there's always room for one more).
There are so many differences in scarf collex just within the H realm (love the SOTD thread to showcase this). I'm always amazed at how TPF'ers share designs and color ways that suit their personal style and look beautiful on them. There's the odd carre that gets rehomed because it "doesn't work" for the wearer. I'd love to explore & discuss just what factors make a scarf "work"...
Many rely on the skills of their trusted SA, their own innate judgment or adhere to a particular color system. I can hear Sandra Bullock's character in the Blind Side saying, "It is not in my color wheel and I'm not gonna wear it."

Many of the vintage H designs have wide borders that some absolutely avoid. I've discovered that these work just fine for my aesthetic.
Ex: La Poursuite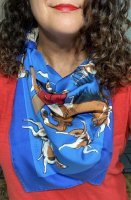 In fact I've determined that designs that offer bold clear colors (occasionally pastels), contrast and less intricate designs stay in rotation.
Grayed color ways with less contrast seldom make it out the door on my neck, though if I love the design it'll get tied on a bag, etc. This Les Boxes is beautiful, but seems to rob my skin of warmth and makes me feel like a zombie...
Is this phenomenon due to my dark hair? My neural skin tone? I'm not sure...
What epiphanies have you had? Notice any similarities throughout your silken stash? Have any insight to share on how you select scarves?

I'm interested to hear- Please share!!
Last edited: