I received my first YSL!
I had quite the debate if I made the right choice
, but I ultimately chose the Niki Crossbody in a studded seasonal variation. While the bag was in transit, I also was starting to see updates on the new
Givenchy Antigona Soft
(drool), and honestly, I thought I might of made a mistake with the YSL.
I chose this bag because I don't have a minimalist bag in black, and I loved the studs...I feel like it makes the bag. I tried to talk myself into the regular version, but it just felt plain compared to the studs.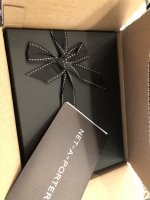 I've had a lot of recent frustrations with online shopping...I initially tried the Ferragamo Studio bag, but it was sent in horrible condition from Bloomingdales. It was just placed in the box with no protective wrapping.
I ordered the YSL Medium Niki in metallic silver. It was packed well by Saks, but it was too blingy in person.
The Net-a-Porter order was the best department store wrapping I have ever received. It was not only in a beautiful Net-a-Porter box, but they also packed the bag in a YSL box and dust cover. A+ for packing, presentation, and quick shipping. It's right up there with my phone orders from Chanel/Hermès. I never expect a brand's packaging with department store purchases, but this was so nice that they included it AND wrapped it like a present. I will likely choose them for my future department store purchases!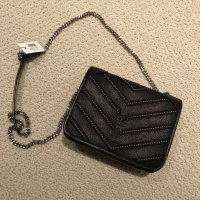 The bag itself is really pretty. I'm glad I didn't hesitate as it is sold out most places. My iPhone plus fits, and there are credit card slots if I don't want to pack my wallet. The bag is about the length of an iPhone plus.
The crossbody strap length is a nice size. It hits me where I'd like it to and still looks nice on the shoulder.
No hesitations on this bag! After three attempts of online bag buying, I'm finally ripping off the tags! I still want the Givenchy but will purchase it later.
I'll post some better photos later...the lighting isn't great as it's getting ready to storm here. I was just excited to get the bag!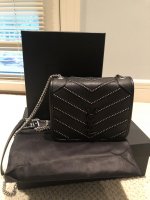 Last edited: