I went to the Celine boutique today and picked up a Black Calfskin mini belt bag with contrasting stitching, the only problem is that I already have a Black smooth leather Antigona

They're the same approximate size too, so I want to exchange the bag for different color.
I want whichever leather will be more structured in the long run. The calfskin seemed stiffer than the grainy leather in the store, but I'm not sure if that would still be true long-term.
These were the other colors I saw in the store: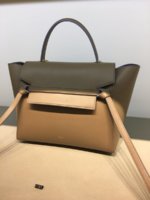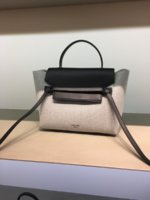 I like the Canvas version, but I'm worried about how it will wear over time, and cleaning may be an issue in the future.
The red grainy leather is a micro, I'm pretty sure I prefer the mini (larger) size.
There's also a light taupe grainy leather (color transfer?)
Navy/red is a very soft scratch-prone leather (I've forgotten the name she used, but it's softer than calfskin)
The camel and light camel were both calfskin.