I currently have two Saint Laurent bags that are basically sitting in my closet collecting dust. The Loulou is beautiful but was a total impulse buy. I went into the store wanting a beige summer bag and they didn't have one so I walked out with the small grey. It's very pretty but I just don't wear it.
With the envelope, I was still yearning for that beige bag. I purchased this online. The color said warm taupe. When this bag arrived it was a completely different color. It's really a grey, and can even look khaki against certain clothing. My fault for not immediately returning.
Lesson learned....don't keep bags unless you are totally smitten and better off returning and waiting for exactly what you want.
Now, what to do? Should I sell them to
fashionphile
for basically half what I paid for each and then buy something I love? Or should I just keep them and try to get them into rotation more? I feel like I'm throwing money away by selling them for half. However, I'm also throwing money away allowing them to sit in my closet.
I also bought them pre pandemic so things have drastically changed. I'm not going out for dinners and events. I'm wearing more everyday....wondering what my fellow purse lovers thoughts are?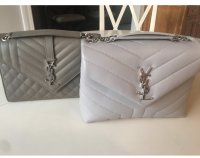 Last edited: