Kusama Metal Dots Side Trunk
"Narcissus Garden" is overall my favorite piece by her. The story behind it is so kicka**. Hesitated because of the price… but thinking about it now, this would have been a forever piece for me. It also has zero trace of LV branding, which I LOVE.
Since 1854, On the Go MM, beige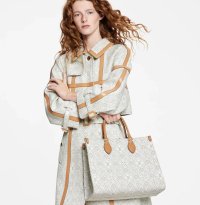 Fell in love with the 1854 jacquard and got a piece in every color. Took too long on this piece too, because I couldn't decide between it or the Loop (blue leather trim). I got the Loop, which ended up being too small for my liking. I stalk resale sites, even international ones, for this bag now.