Hi fellow handbag enthusiast!
I'm in a bit of a pickle here, you see last 2016 I have bought 5 handbags and broke my 1 bag per year limit. Though I love shopping for handbags it just not good on me financially, especially if I want to travel soon. So this year, I am planning my next handbag purchase early. These 2 small are in my radar since last year and love them both but because of 1 bag limit I can only pick one. And hoping you can help me out.
I want to have a small bag that I can crossbody and fit my very essential stuff like cardholder, coin purse, sunglasses, lip balm, phone & mints. I'd like to note to that I'm guy, so I also want something I can wear without looking ridiculous or trying hard.
Gucci Mini Dionysus
.
I fell love with this bag when I went my friend when she got her Marmont late of 2016. I actually tried the Blue Bloom, I was wearing black jeans and blue shirt I quickly fell in love with it. I am planning to get either the blue blooms or classic beige suede. (I am more leaning to the beige suede.)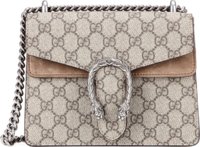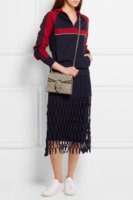 Marc Jacobs Snapshot Denim Patch
Saw this bag in the end of December and I automatically drawn to it because (1) I'm obsessed with denim and patches & (2) its strap. This bag is from cruise collection so its more on trendy side than classic. I don't normally go for trendy handbag but I just feel this bag is a reflection of my personality.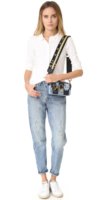 I have tried both bag and love them both. Love hear your thoughts and suggestions. TIA