Hi all,
I've been wanting an orange Hermès scarf for quite a while now and will be buying one when I visit Brussels (in about a month). Since my budget is limited I'm considering one of two scarfs in particular; the Summer Party muffler and the Agia Pelagia scarf. Please help me decide.
Summer Party: €370
Cheaper
I like the pattern
Not really sure if I like a cotton/silk blend, afraid it's too "thin".
Why is this made in Italy?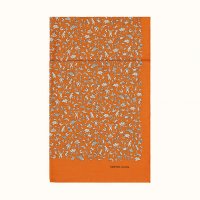 Agia Pelagia: €450
Bit more expensive
I like the pattern (but less than I like the Summer Party pattern)
Wool and silk is a nice combination, but maybe too warm for hotter days?
Not sure where it's made.