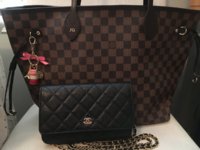 In celebration of my second daughter being born....here is my black caviar WOC with ghw! I debated on a square mini or a large wallet but ended up with the classic WOC. I also got a neverfull in DE because I wanted something for daily use. As much as I'd like to think I would use a square mini everyday, I needed a soccer mom bag.

I was in the Chanel store on Rue Cambon a year ago and regret not making a purchase then. I was all about LV on that trip. But I love my WOC and have a feeling it won't be my last. Does anyone use a small card holder in it?
Thanks for letting me share!