dear Hermes lovers and experts... i have recently acquired a new to me Orange Box calf Kelly 28 sellier GHW from 2002... considering she is 16 years old, she is in wonderful condition...
i have always admired box calf leather, and i thought i was ready to add this classic heritage leather to my collection... i've done a lot of reading and research on the properties of the leather, i know it scratches easily, i know the scratches can be buffed (to an extent), i know spa can work wonders supposedly ... but when i actually received the bag and took a close look at the scratches and some color loss and drying of the leather in some areas, i got really scared

. i now have half a mind to return it because i'm worried i won't be able to deal with how delicate box leather seems to be... on the other hand, i don't want to kick myself down the road for passing up on such a rare amazing beauty.
i know the final decision is mine to make and mine alone... but i would really appreciate some of your thoughts and advice as i mull this over...
a little about me and my current H collection, i have been collecting for about 7-8 years now and i think i've come to a point where i know what my H bag preferences are. i have parted ways with my B35 and K35 as they were too big and heavy for my use. i currently have:
1 epsom B30
1 togo B30
1 epsom B25
1 togo K32 retourne
1 swift K32 retourne
1 epsom K28 sellier
1 evercolor K28 retourne
1 swift K25 retourne
1 chevre K25 sellier
1 epsom C18
1 swift C24
1 tadelakt medor clutch
+ various other clutches and SLGs in epsom, swift, chevre
of the bags i own, i really love chevre, swift, evercolor and togo. epsom is my least favorite leather... and it is becoming clear to me that my bag style preference is the K sellier > retourne in 25 and 28. all of my H bags except for 1 were purchased brand new from the H store, so i am more accustomed to brand-new condition of bags. GHW is my preference, and i do dress in a very feminine and colorful manner, mostly in dresses and skirts. rarely will you see me in shorts and pants, except for gym clothes.
without further ado, here are pics of my orange beauty...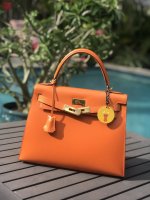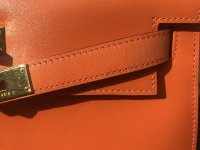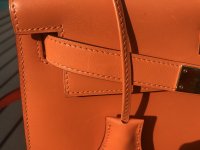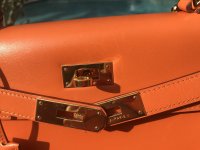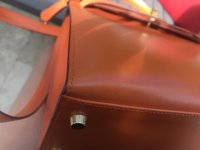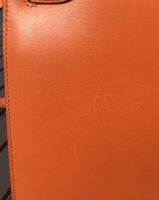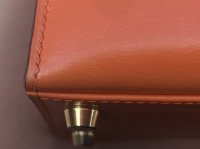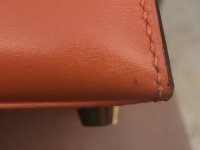 Last edited: