So I know we've been here before with the kite, and ya'll were so sweet about helping me out... only for me to change my mind. I loved the color, but the bag felt too light, not substantial. Some might argue that I went a little too far in the other direction this time, but I love my choice.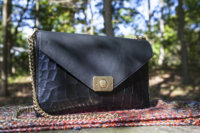 Meet my new delphie! I loved the idea of having a black bag for when you need a black bag. Black is the standard, and incredibly versatile. The croc embossed leather felt like it could take a beating, and the chain makes the whole thing a bit more classy. But as we all know, the delphie lives a double life...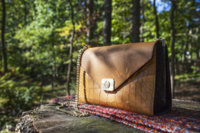 I was originally hesitant about the camel. I've never owned a bag in this color, and I wasn't sure what to pair it with. The irony is that seeing it in person, I like the camel far more than the black! There's something about the contrasting sides that makes the camel croc look even more chic. Regardless, I'm in love! (finally)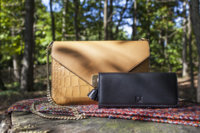 Even better, there's enough room in the delphie for my *other* splurge: a luscious lambskin Loewe wallet. With a tassel! I bought it at the Loewe outlet outside of Barcelona for a relative steal. It really needed a structured bag because otherwise those lovely jagged edges would get destroyed.
And yes, I really took my bag outside and photographed it in the backyard because the light was lovely and what's the point of having a Birkin's worth of camera equipment if you don't use it?

I've spent the last decade amassing quite the arsenal of photography gear, so I figure I'll spend this decade amassing handbags.