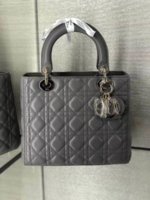 Newbie to Dior and am excited to purchase a LD in medium in my upcoming trip to Hawaii. I have narrowed down to these 2 colors ( tan/beige or iron grey). I don't live near any Dior boutiques so I can only reply on photos sent from SA.
I am hoping to use this bag as often as I can, so I want something that goes well with causal wear yet mature (I am in my mid-40s).
My style is pretty casual or more bohemian type, and I wear all sorts of colors ( except red / burgundy colors).
Would appreciate your input / feedback etc.