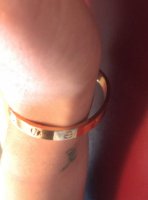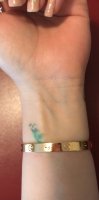 Hi everyone! Thank you to everyone who replied to my first post about sizing.
I was able to go back to Cartier and try on the 17 some more.
My wrist is around 6" or a teeny under and I've been stuck between size 16 and 17. 16 seems a little tight or I'm just not use to the fit. 17 feels kinda too loose.
I really wish they made a 16.5.
I'm not sure which to go with, because I will be losing 20-lbs this summer even though I don't have weight on my arms/wrists.
The first set of photos are the 16, and the second post is the 17.
Any opinions?
I tried stacking 2 and it drives me a little nuts how the 17s jingle but I don't know if the 16s stacked would get even tighter.