I like it ! so far so good!
Structured and light plus such a comfortable leather strap !
Also always thought there were 4 colors !
Well there's actually 5
The one beside white is called Miele !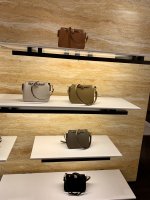 Honestly thank you for this. I think I am going to be getting it thanks to you.... I like the camel colour one! I do think it's less durable than Togo though and more durable than the first right?