I got to see the new 30 Montaigne bag today by chance (launch date is tomorrow).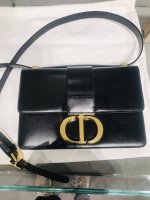 It is available in black, white, and oblique. The smooth leather is luscious but gives me stress lol. Interior is the same as the Diorama (one flap zipped pocket in the back, one flattish pocket in the front for your phone or a card holder). The back exterior features a flat pocket, with 30 Montaigne embossed (a nice detail imo).
Priced at C$4400 for leather and C$3900 for jacquard.