I am not one for a lengthy reveal so here goes; never had a classic flap with the cc turn lock and always admired them on others. Of course I wish I had bought one before all the price increases but I never found one that made me hand over my card. Till now.
To me this is the perfect bag; classic flap, classic lambskin, size medium but it was the mix of hardware that sealed the deal.
The attention to detail really impressed me. The grommets (not sure what those are called), if my eyesight doesn't fail me; are in champagne gold, gold, silver and ruthenium.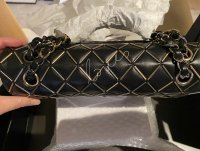 This will probably be my one and only classic flap, price was eye-watering but I thought it is versatile with the mixed metals. That's what I told my husband and he graciously offered to get it for me this Christmas. I am truly blessed to have such a loving and giving husband and a forum where I can share my happiness.
Happy Christmas everyone.
Last edited: