I did not even know that the medallion tote came in this color which I absolutely LOVE therefore I could not resist!

I have been wanting something in bordeaux just didn't know what
Thanks so much to Michele and Burberryprncess for your help.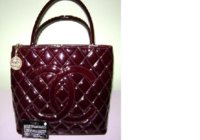 With this in mind, I was hoping to get other medallion tote owners and admirers to share pics of medallion tote in
different colors
i.e. pink, purple, red, etc. since I am really curious what other colors it came in. I did a search and did not find a thread showcasing all the different medallion tote colors.
This gorgeous patent lilac medallion tote from Yoogi's closet sparked my interest and curiosity of the array of medallion tote colors that I was not aware of.
http://www.yoogiscloset.com/chanel-lavender-patent-leather-silver-medallion-tote-bag.aspx