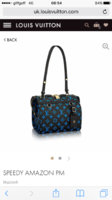 Help! good predicament to be in I realise but I cant decide between these two beauties!
Always loved black/blue mono but it is double the price of the speedy 30 bays... Perhaps I will regret not going for the blue/black?! Eeek - I'm so indecisive!
Saw a fab youtube video by Leo Lion on the
amazon
speedy which was a great help but I just cant quite decide...
I have a speedy B 25 in DE which I adore!
Any advice would be greatly appreciated.