dear ladies!! I guess it's more of a want issue rather than should/ should not
I have a black chevron boy in old medium which I adore [emoji7] it is in calfskin so I'm still babying it... when I saw there's matte caviar boy in prefall, I managed to talk myself out of getting a boy flap, but am so tempted to get a black quilted boy WOC!
I think they are different bags and serve different purposes... but I find it a bit difficult to justify the purchase. I haven't owned a Chanel WOC before so I don't know what it is like (size, functionality, etc). and I do find it very cute and dainty when I see others wearing it, comparing with the boxy feeling of a flap.
and I probably won't get the WOC in classic/ reissue style... and maybe it's because I'm afraid I would regret it as it is seasonal and would be so hard to get it later... 🙄 I have also been also considering the black diorama for a while but I'm not completely sold on this style - I worry about its longevity (if only it doesn't have the silver badge!!) and I kinda think caviar may be slightly more durable than dior calfskin...?
so do you think I should pull the trigger on this one?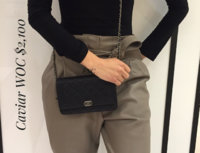 (sorry I don't have the pic with the black one, and this is borrowed from another TPFer [emoji4])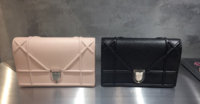 sorry for the longggg post and thank you so much in advance!! I would love to hear from you [emoji16]
Last edited: