Jun 18, 2012
9,743
28,891
I'm looking for a bag suitable for work and would love something in the burgundy / bordeaux color range. I love the look of the PS Top Handle Hava Satchel and would like feedback on it (functionality, quality, etc.) as well as suggestions on other bags to consider.
I'd like a structured, leather (no saffiano) hand / arm carry satchel. I'd prefer it to also come with an optional shoulder strap but that isn't a deal breaker. It should be big enough to carry my essentials plus an iPad, a small umbrella, etc. and have a secure top - I prefer flaps but top zip is also fine.
It also has to be discreet with very limited (or no) branding. Price range up to $2500 ish but a less expensive option around $1000 - $1500 is also great. I'm happy to buy new or preowned for the right bag so that gives a lot of pricing flexibility.
Thanks in advance for your thoughts!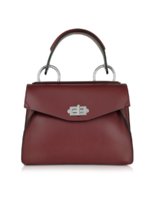 Last edited: