The jacket was in pretty good condition! Not perfect, but pretty good - definitely better than anything I've purchased off of
TRR
. The only imperfection was just that one of the sleeves was more faded and dry than the other.
I am attaching some photos comparing the 09 cognac and the 07 biscuit. My 09 cognac came with issues - the interior lining had a lot of small tears that I had to sew up, and the leather is seriously wrinkly and quite dry in some places. I was really stupid, and tried to "iron out" some of the wrinkles by putting a towel over the leather, but it ended up darkening the leather on one arm of the sleeve that got exposed to the heat. It's noticeable if you look for it, but I think the casual observer would not notice, especially as these jackets are meant to be distressed and have a lot of marks and some discolorations anyway. I'm still kicking myself, and I have no idea if it is reverse-able or fixable, but I am not worrying too much.
Is it just me, or is 09 cognac one of the most rare jackets to find second-hand? I've only ever come upon it once or twice, once in 36 and once in 38. I almost never see it on the second-hand market. Perhaps they didn't make that many, or just people hang onto theirs?
I also purchased the petrol/canard from the same Japanese seller on Vestiaire, and it is indeed the softest leather of all of my motos, perhaps with the exception of the 08 khaki (the more brown khaki). That one came in the best quality - looked almost brand new / unworn.
The '09 Cognac - see the left sleeve which has the darkened bit at the elbow now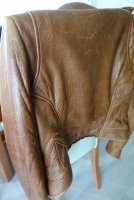 09 Cognac - the sleeve I messed up. You can really see once it's darkened, that it has a more "red" tint than the biscuit. The biscuit is more "yellow" ish tint.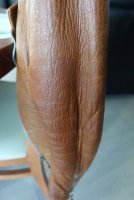 The 09 cognac vs the 07 biscuit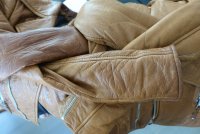 07 biscuit is on the left, 09 cognac is on the right. My cognac is more distressed, but I can't tell if that's just because it is more worn. Also, the sleeve of the biscuit that is shown is the more "distressed" sleeve - as I mentioned, the two sleeves on the biscuit also have some color and texture differences.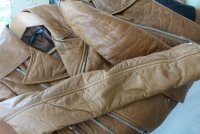 07 biscuit on the left vs 09 cognac on the right