I've been looking everywhere for a small black backpack with a magnetic flap + zipper. For a year now! None of the big brands or online listings carried this simple wish, but today I just happened on this in a local shop. Love at first sight.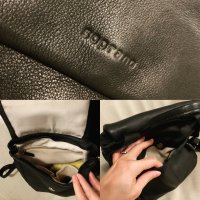 100% nubuck leather with a magnetic pouch on the back and enough pockets inside too. So soft, so lux, so functional.
And it only cost me $40
(crazy sale)!!! I searched up this bag and it's this exact one:
https://www.sopranohandbags.com/col.../naomi-nubuck-backpack?variant=32471124312130
Even the original price would be really fair for the material and craftsmanship.
I've never heard of this brand and I'm shocked?? Why's this such a well kept secret? Anyone else have any of these bags?
Last edited: