I bought my first Tory Burch item from this very store two Xmas ago, the Reva flats in leopard print. It was seriously my most comfortable pair of shoes, after my disastrous encounters with Ferragamo.
So two years later, I am back in London with purposeful intentions. Presenting my Twiggy pumps and Val Sandals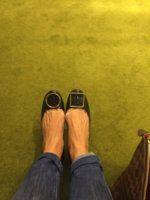 Hopeful that they are successful buys! Forgot to add the price. Pumps are £109 and Sandals are £85. All after 50% discount.