Feb 28, 2021
2,798
24,288
Congrats on your lovely bracelet. Just FYI this is known as needlepoint turquoise, not petitpoint.
Thank you. Petit point is when it's circular isn't it?
So the flower shaped cuffs actually contain both needle and Petit point?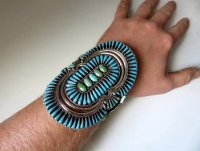 That is an absolutely beautiful cuff - enjoy it! At first I thought it was two stacked cuffs but it looks like one piece. What a great design!
Thank you. Yes I love it and it's a double row. It's very comfortable to wear.
There's some other beautiful cuffs out there.