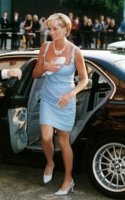 AOL.com has this fun article today,
May 25th, 2017.
We know that Queen Elizabeth II uses her handbag to
send signals to her staff
and that Duchess Kate holds her clutch in both hands when
she's attempting to avoid an awkward handshake
-- and now, the hidden function behind Princess Diana's clutches has been uncovered.
If you look at old photos of the Princess of Wales exiting cars at events, you'll notice that she's almost always carrying a clutch -- and the accessory didn't just exist to hold her belongings.
"We used to laugh when we designed what she called her 'cleavage bags,' little satin clutches which she would cover her cleavage with when she stepped out of cars," the royal's handbag designer Anya Hindmarch
told the Telegraph
.
https://www.aol.com/article/lifestyle/2017/05/25/princess-diana-clutch-cleavage-bags/22109193/