So I saw this at Neiman Marcus the other day and am completely in love. Not normally a huge fan of the Dolce & Gabbana Sicily design but the east-west orientation and the pushed out side gussets really update the look in a good way, IMO.
My question is which color? On the D&G website they also have this 'Marsupio' color which looks like a lovely beige.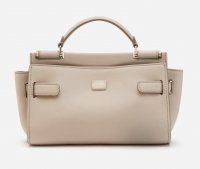 Curious as to folks' thoughts on which you'd choose, given the bags I have - let me get those added here.