Just wanted to share some new T&Co items I picked up in the last month!
First, I got the Tiffany & Co 1837 Circle bracelet from an online reseller. I stack my T&Co bracelets almost everday and I wanted a new "texture" so to speak in my stack. I saw this and thought the circle would be fun!
I took it to T&Co and they gave it a look over to make sure all was well and cleaned it for me as well!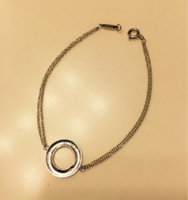 Then, I used to wear Alex & Ani bracelets the last couple years. But some of my metal ones turned really black. I know the recycled ones do have some tarnish but they were really turning.
I saw on the T&Co site that they sold this Wire Bracelet. I went back & forth if I should just buy this, which will last 4ever, and not invest any more money in Alex & Ani. I decided I could buy any kind of charm... Even Pandora or something and wear it on this Wire Bracelet... So I could really change it up!
Sold!! No charms for it yet but Ive still been enjoying wearing it. I think it really varies up my bracelet stacks!