It is a Elsie Medium Satchel, I believe it is a 2010 style according to my research (correct me if I'm wrong =D)
I got the almost brand new one for $600, the previous owner spot that in Woodbury and got it during Black Friday sale. She never wore them out so the condition is very new.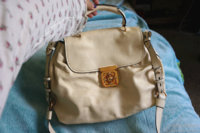 It is on the way to me and going to be my very first Chloe, I am not very familiar with the brand including the style and price. Can someone please tell me if it is a good steal so I could be extremely happy about it?
Thanks !