The other day I was browsing at
Nordstrom
and saw a couple of MBMJ bags in woodland. I immediately fell in love with the color which was a dark blush shade and the leather was beautiful. But the cross body style wasn't for me so I googled for other styles and found one at
Shopbop
. As fate would have it, there was a Friend and Family sale so I took the plunge and told myself I deserved this for my birthday/Mother's Day next month. The bag arrived today and here it is, the MBMJ Marchive Hilli in woodland.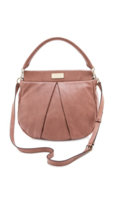 Initially I thought it was too big but I tried it with stuff inside including an ipad and I felt it was okay. I hope it looks okay. The shoulder strap is still a bit stiff and painful on the shoulder but I have a feeling it will soften with time.
Thanks for letting me share my joy!