Do you think you could post a video of this bag in sunlight vs indoor/overcast?

Not getting the monoglam speedy (smaller opening than the other 20s), and I've been eyeing the side trunk too, but no stores near me have it.

Talk me in/out of this side trunk lol
Not the person you're asking but I do have a photo taken in-store. The lights in the store were not doing it any favors. It did not look iridescent at all. Even near a window, there was no rainbow effect as the sky was overcast. It really needs to be appreciated under direct sunlight.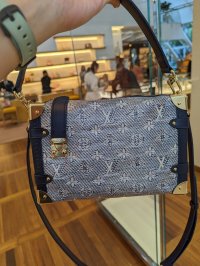 Order it online to check it out in person? You probably won't be carrying it under direct sunlight all the time, so you'll want to be happy with how it looks indoors/ in the shade as well.