Thank you to everyone who offered opinions on the Naïf charm. I decided that questioning my choice meant I should return it, so I did.
My wonderful SA brought out all the charms and we discussed and tried them all. Ultimately, I am ecstatic with the two I brought home that are versatile and more "me" so, without further ado:
Introducing: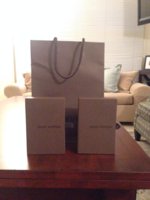 My two new LVoes:
The Tapage charm and the Fleur de Monogram!!!!!!