Hi all,
It was 2015 when I last posted on this forum and at the time, I was recovering from double jaw surgery, which I had done at the DA clinic.
Now I am facing a new problem, which I would like to fix. Since the surgery (and ageing) I have loose skin under my chin, which I want removing / tightening (see picture). I also want the vertical height of my chin reducing slightly. Please see pictures – left hand side is how i look now, and the right-hand side it what I'm hoping to achieve.
The wish list:
A specialised clinic that can fix both issues at the same time, i.e. one surgery.
English speaking surgeon
Surgeon who understands the western 'look'
So, that being said, can anyone please help with the following:
Can anyone recommend a trusted clinic that can reduce the chin height and perform a neck lift?
Can anyone recommend a place to say? – Last time I stayed at Ephphath Residence and had no issues.
Can anyone give an indication of cost for both surgeries?
I am planning on having this surgery early April.
Thanks in advance - PS try not to laugh at my terrible photo editing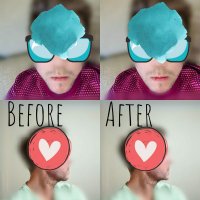 Last edited: