What a beautiful collection and a beautiful idea. I collect museum scarfs and have around 30 scarves from museums all around the world from my travels. But they all different shapes and sizes. Any idea how I can keep them organized like this and where to buy the organizer? Many thanks for any help....
TY! You're museum/travel collection sounds like fun

How about multi sized organizers from
Amazon
?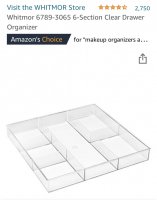 Love this post! You have such a gorgeous collection! I'm an organizational nerd so this is right up my alley. I love seeing how others organize/store their collections. Thanks for sharing!
TYSM! Happy you like staying organized too

Please share your storage tips and tricks!