Hi all! I'm a newbie here, so feel free to set me straight if there's anything I'm doing/saying that is a faux pas for this forum!
I used to not like the look of the Loulou puffer because it always looked like a winter parka but in bag form. But now, I'm loving the less-structured type of bag and am obsessed with it!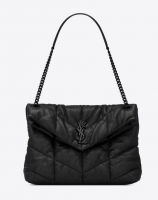 ​
A lot of my handbags are smaller and/or more structured. So I always have to be extra thoughtful of what I put in it (instead of my full-size LV Zippy wallet, I have to use a cardholder, instead of a sunglasses case to protect my sunglasses, a cloth pouch, etc...).
So I'm so ready for a handbag that I can shove exactly what I want in there, that I know won't be constrained by the firm structure. I would love a black one of these.
BUT here's the thing. I was watching a video by Chase Amie and she mentioned how one of the cons to this bag would be, you couldn't really wear it during the summer. I was SO bummed because I had FINALLY decided that was the bag I was going to get after looking at SO many bags, but she was right. I definitely wouldn't want to wear a black parka-like fluffy thing around when it's hot and I'm wearing my summer clothes, I don't know, do you all disagree?
I'm also torn because I'm not the biggest fan of the crinkly/shininess of the Niki is and how the button sags and pulls (poor leather!) from the weight of the stuff put in it:
​
But I do love that it's on the casual side. The regular Loulou looks too large and blocky; maybe I'm just the world's pickiest person!
What do you guys think would be a great shoulder bag that can be:
Subtle (I do love the black on black monogram)
On the casual-side that's not so structured
Can carry a decent amount
Good all-year-round
Or should I just plan on getting another one of these babies but in a lighter color?
Thanks in advance!!