Hello YSL Lovers!
(How weird me saying "brand" lovers hehe)
Anyway, I am thinking about getting the College bag in the Medium Size in Black.
The webiste shows two options: lambskin with ruthenium (gun metal) hardware
Or sheepskin with black hardware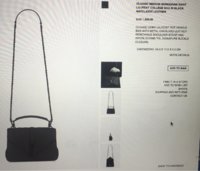 Which one would you choose? (All my bags have ghw except for a red alma bb and I love both options! :/)
Has anyone had problems with the black hardware chipping?
Thanks everyone [emoji8][emoji173]