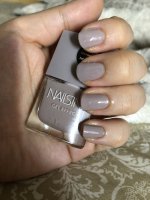 Does anyone use Nailsinc gel effect nail polish or anything similar like the sally Hansen gel effect or essie gel couture polishes where they're kind of gel but not really because they don't need a uv lamp?
I love gel but honestly the light gives me a headache even if I'm looking away from it and it's just a pain to do myself or go to the salon.
I've been trying to find more good gel effect nail polishes. I love Nailsinc gel effect nail polish because they have a kind of watery consistency and are easy to apply. Does anyone have any recommendations on similar kinds of nail polishes? I've been trying some other gel effect brands and they've been super thick and clumpy. What are your thoughts on gel effect vs gel vs regular nail polish in general?
Edit: oops I meant to post this in the nail care forum. Sorry about that! If it can be moved I'd appreciate that.