Lots of firsts today--first thread and first LV purchase! I got the Neverfull MM in monogram with the cerise lining, which I'm totally in love with. I love everything about this bag, and I feel like I got three bags in one. I had toyed with the idea of getting a Speedy, but the Neverfull seems more practical and versatile.
I actually went to buy it last Friday, but the only one they had in stock had one red stitch where the handle is sewed to the canvas. It must have pulled through from the cerise, and on the interior, there was one yellow stitch in the same place. I was pretty surprised it made it out of quality control, but I obviously didn't want that one, so they had to order another for me, and I picked her up today.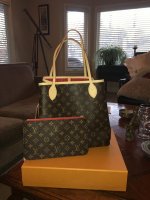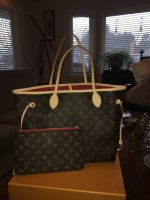 What's YOUR first LV story??