Hello ladies!! I haven't been posting much on the Chanel sub-forum lately (well actually on TPF as a whole lol) – have been really busy at work!!
But as my birthday is a few days before Christmas, I've received wonderful surprises from my regular CHANEL boutique

and I would LOVEEEEE to share my happiness and excitement with all of you lovely fellow tpfers!!

So at the weekend before my birthday, I went to the boutique to pick up a pair of white canvas espadrilles with camellias all over which I've preordered a few months ago
While I was trying on the espadrilles, my SA disappeared for a short while

and when she came back, she's holding a birthday cake!!!

Can you imagine how happy I was with this surprise?!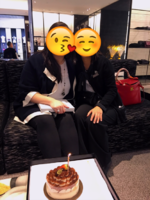 BUT…this surprise was only the first of a few to come…