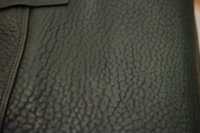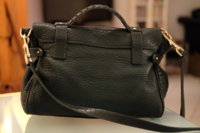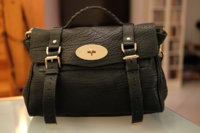 Although I promised myself not to buy more Mulberry bags for a while (have bought a lot last year, the Mulberry bug really got me...) I couldn't resist when I saw a preloved Alexa in pheasant green shrunken calf leather on a trusted website.
I loved this green color at first sight, also on pictures here in TPF. When I received the bag I was happy: thick leather of a good quality, and the bag keeps its shape better than I have seen on pictures with the buffalo leather. The disappointment came the next morning at a closer look at daylight. Especially at the back side of the bag, at the wrinkles and the parts in general where the leather rubs on your body when you carry it crossbody, the color of the leather is already faded. I hope you can see it in the pictures.The bag was announced as in "as good as new condition", otherwise I wouldnt have been so surprised. The price was also the highest I ever paid for a preloved bag. After a half sleepless night I decided to keep the bag because I love the style, the color and the leather, and the price was about half the original retail price which is perhaps still ok. And I think Alexas in this leather are rare to be found.
But now my questions: I have seen other beautiful bags in shrunken calf leather and rich dark colours. How are your experiences with the leather quality and color? Have the bags also faded unevenly? Would the color rub off even more? With my SBS in black and oak I haven't seen a single sign of use or scuffs at the back. In the care card of the shrunken calf only collonil water stop spray is recommended. Would the collonil leather gel help when I apply it severel times or would it make the problem even worse? Any advice and pictures are welcome!