The Parker Convertible Backpack with Tea Rose Stones is a small bag. According to the
Coach
website it measures 6 3/4" (L) x 7 1/2" (H) x 3 1/2" (W).
I'm going to start this post by saying, those dimensions are misleading. The bags width narrows at the top when closed to 2". This is a big deal on such a small bag. (See picture below, blue line indicates the 2")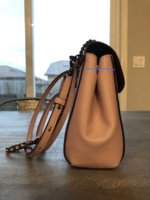 In theory it would be 3-1/2" if you never intended on closing the top flap. That is not the way this bag is meant to be used though. (See picture below on how it looks when completely open at the 3-1/2")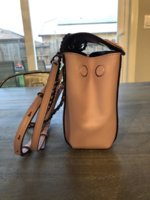 This design comes with limitations and prevents you from filling it with anything other than "bare essentials".
What's in my bag?
Zippy Multicartes Wallet
Compact Mirror
Eos Lip Balm
iPhone 8
Warby Parker Glasses
6 Key Holder
This leaves my bag filled to the brim. I can probably fit a lipstick or gloss, but the bag is full.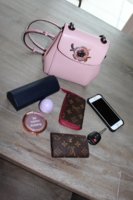 Even with all of these items the bag still closes as it should. In the end this bag is not meant to be a carry all. It is meant for what you NEED.
It also converts from a backpack to a shoulder bag, to a top handle, and finally to a crossbody. It's very easy to convert to any of these positions. The length of the chain is perfect in my opinion.