My lovely SA told me last night I'd be getting my new boy and sent me photos of him! HE IS ABSOLUTELY GORGEOUS &&& that grained lambskin? IT LOOKS LIKE CAVIAR!!! My holy grail baby!!!!
Here are my SA's photos!! I'm so excited I can't contain it!
Here you go all! It's tagged with my Instagram as well! =] I'm literally ecstatic!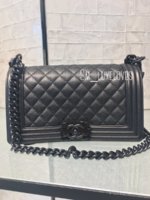 My lust eyes can't even begin to describe how beautiful it is! Whoever is on the list, you all will be sooooo happy too! Good luck and hope y'all get your new ins soon! I think I may be the first in the states [emoji41][emoji38]