I need some advice.
I have been drooling over the green rectangular mini flap from 16B since I saw it last November or so. I held back from buying it because I didn't know if I'd be capable of pairing it. I bought a chevron dark beige mini flap since. I went back to the store today and saw it again. I still love it and I have since then saw people using green purses as everyday purses.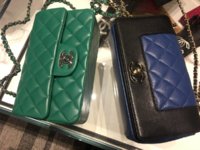 However, I also saw this SS17 bag in black and blue. It looks like it would make a perfect everyday purse as well. It's width is not as wide as the mini. I should note that the green mini is the last one in the store and it has a small scratch on the bottom.
The black/blue bag is sheepskin and the chain on the blue/back is quite thin. There isn't much price difference between the two.
What do you think???