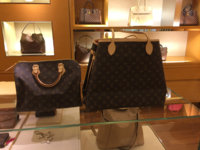 I went to see them and just loved them both. Not sure which one hubby will let me get, obviously there is the price difference. But he told me we can go for my birthday in a few weeks. It will be my first boutique PF purchase.
The thing is I just don't know which one I want more?
I even debated the DE Neverful but I fear the straps will be uncomfy on my shoulders. The neverful in Mono was surprisingly comfy. The GM cinched is awesome.
Of course there's the Speedy 30 which is classic and an awesome piece to have.
So which would you choose. They both looks awesome on me which helps none. Lol.