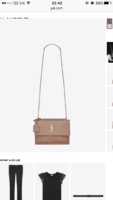 Hey everyone!
I'm looking for a smallish but not too small bag. I saw the Saint Laurent sunset bag and thought it was so pretty!
Initially I was going to get the Valentino but have been hesitant buying this because I have heard the smooth leather is prone to stitches.
I have been looking for an alternative bag for a while but I can't seem to find anything I have fallen in love with.
I did like the Louis Vuitton crossitte bag in Daimer ebene but that is too small.
I also was considering the Gucci bag maramot but I don't know if this is too trendy as Gucci seems to be the in brand at the moment.
Any other recommendations?
Thanks in advance