I am struggling to decide between the 2014 or 2016 Golden Class WOC. I have the opportunity to get either in new condition. I love that the 2014 one has detachable straps and I can get it for about $700 cheaper than what I would have to pay for the 2016 version. I love that the 2016 is caviar and I am missing a small caviar in my life. Please help me decide!
This WOC is meant to go into my work tote. I already have a vintage black mini/small lambskin with gold hardware but the strap is too short for crossbody.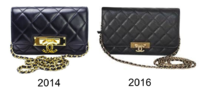 I already have this ....