Anyone get a Mademoiselle?
I originally saw these in Black and didn't like the look. However, when I saw them again in Red I fell for them! All of the sizes have chains that are long enough for crossbody. And the WOC has a working turn lock!
I usually wear WOC size bags because I don't carry much. But I'm leaning towards the small size this time!
What do you think about the style and sizing?
3 sizes available:
Small $3100 left
Mini $2900 middle
WOC $2100 right
Interior of small and mini has a flap
Medium classic VS small Mademoiselle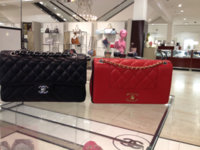 Photos are courtesy of my Saks SA.